Surrounded by crystal clear water, pure white sand and ocean as far as the eye can see, it's easy to understand why the Maldives is often referred to as the most romantic holiday location in the world. This small collection of islands scattered throughout the Indian Ocean are the dream destination for many newlywed couples seeking a taste of luxury, seclusion and uninterrupted tranquillity. But with so many extravagant resorts to choose from, you might be wondering which one is best for your first ever holiday with your husband or wife-to-be. Here are our top three picks for the most incredible honeymoon resorts in the Maldives...
Milaidhoo Island
If you're looking for a resort so seamlessly suited to sharing those special moments with your partner that they actually have their own 'Perfect Honeymoon Package', Milaidhoo is for you. This boutique island resort is nestled within the beautiful Baa Atoll and surrounded by a UNESCO biosphere reserve, meaning that you are always surrounded by the rare tranquillity of untouched Maldivian environment. In their honeymoon package, Milaidhoo provide newlyweds with experiences that you simply won't find elsewhere in the world, from naming your very own star to being treated to a three-course candlelit dinner on the deck of your own picturesque waterside villa. Make yourself at home in any one of their remarkable accommodation options, whether it's the charming Water and Beach Pool villas or the extraordinary Residences. Our pick is the Ocean Residence; sitting over the famously crystal clear Maldivian water, this space includes a private infinity pool, direct lagoon access, a dedicated butler and gourmet chef, as well as your very own outdoor living area that can be transformed into an open-air cinema upon request. Providing everything you need to immerse yourself in your own unique honeymoon, Milaidhoo is ideal for anyone who seeks romance, tranquillity and luxury at all times.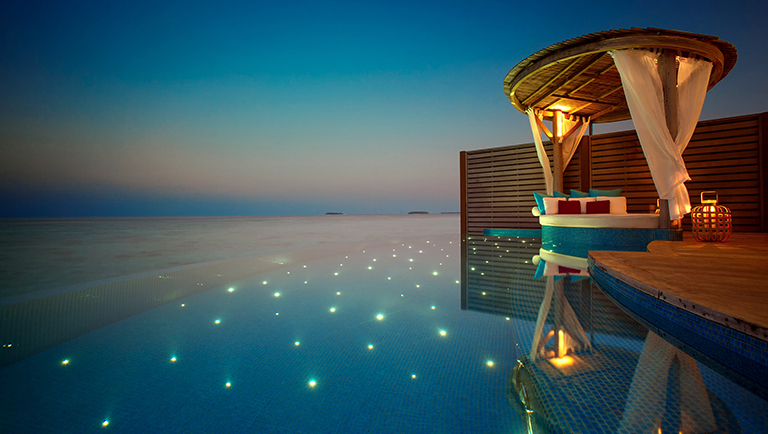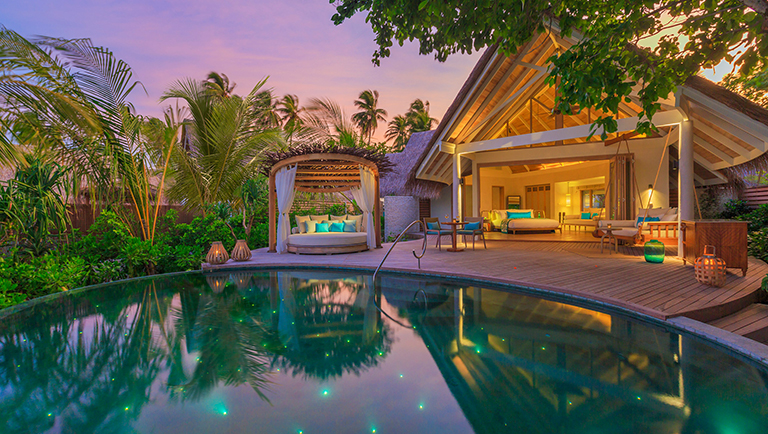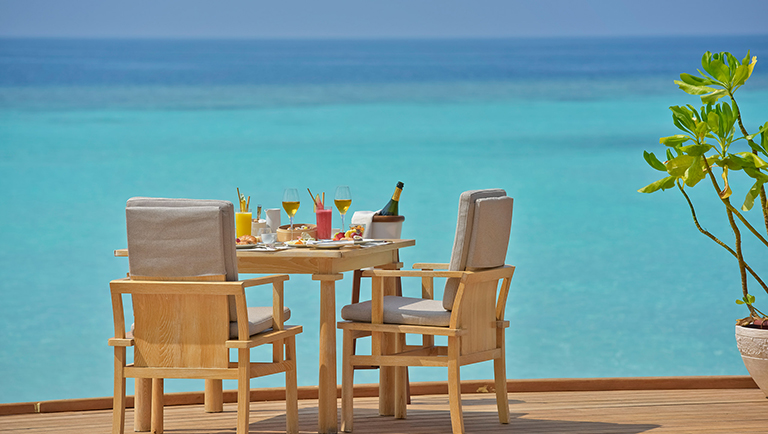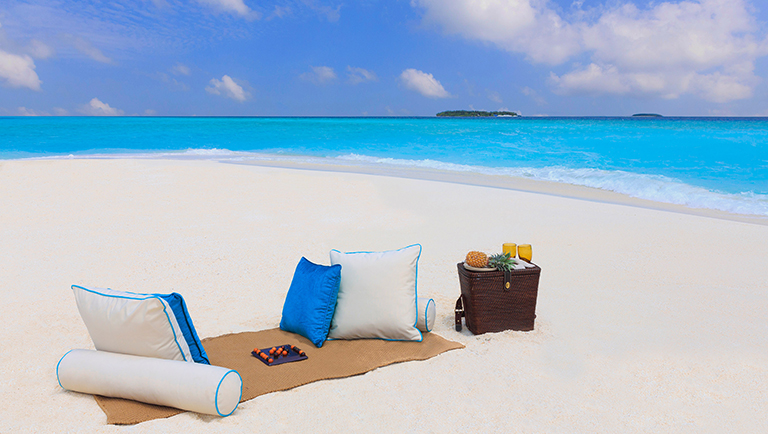 Baros Maldives
Baros is home to romance that most people only ever dream about. And, as an 'adult focused' resort where children under the age of eight are not allowed, it provides an incredible escape for anyone on their first holiday as a married couple. Think private dining experiences atop their secluded 'Piano Deck' space, located off the coast just far enough for you to feel as though you're the only two people in the world. Here you can enjoy gourmet breakfast as the sun rises over the Indian Ocean, or a mouth-watering five-course dinner as it sets around you, leaving a brilliant display of colours in its wake. Even their more traditional dining experiences – such as the one you get when you enjoy a meal at the Lighthouse Restaurant – leaves nothing to be desired, standing out in spectacular fashion as a truly memorable honeymoon experience. Often referred to as the best restaurant in the Maldives, take a seat on the deck of this outdoor pavilion and enjoy a delectable gourmet dinner paired perfectly with a glass of wine from the resort's extensive range of world-class bottles. Each night you can retire to any one of their seven elegant villas, each option offering its own array of exclusive features including tropical private gardens and pools, open-air bathrooms and direct beach access. In all these unique experiences, you will find that a defining characteristic of Baros Maldives is its ability to make their honeymooners truly feel like they are living in their own secluded paradise from the moment they step off the plane.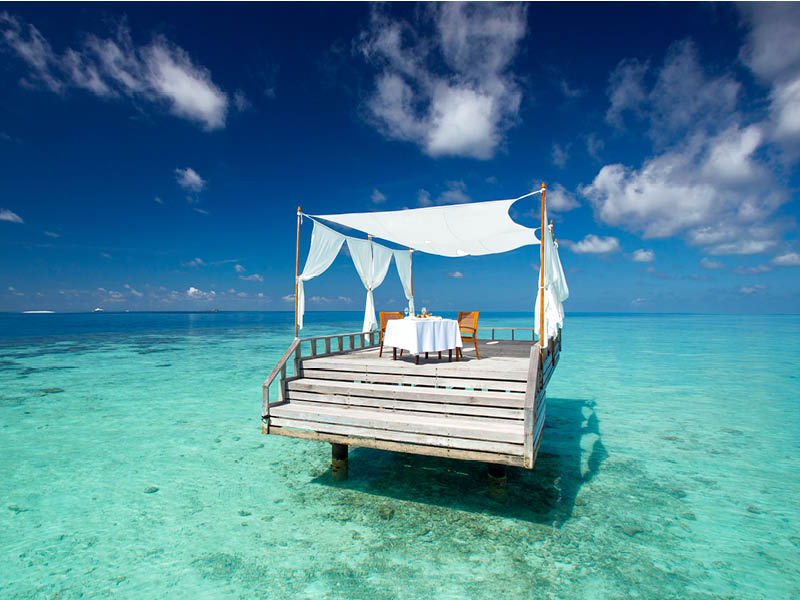 Gili Lankanfushi
If complete seclusion is what you're seeking, Gili Lankanfushi delivers it at every turn. Beginning with their unique, free-standing Crusoe Residences, you and your partner will be able to enjoy complete comfort minus the crowds of fellow travellers, as this private space is entirely yours. Accessible via your own personal motorised boat, these luxury residences include a relaxing overwater deck and your very own private hammock swinging atop the turquoise lagoon. When you're not holed up in your own personal water-side sanctuary, choose from any one of Gili Lankanfushi's romantic activities. Whether it's dining at one of the resort's delightful restaurants, spending your day indulging in exclusive therapies offered at their sensational spa or laying under the clear night sky on a rooftop bed with your partner next to you, there is no limit to the romantic options offered here. In fact, it's not uncommon for many newlyweds to come back to Gili Lankanfushi even after they aren't so newly-wedded anymore. What can we say? One trip to this paradise is never enough.